Cycle of Rebirth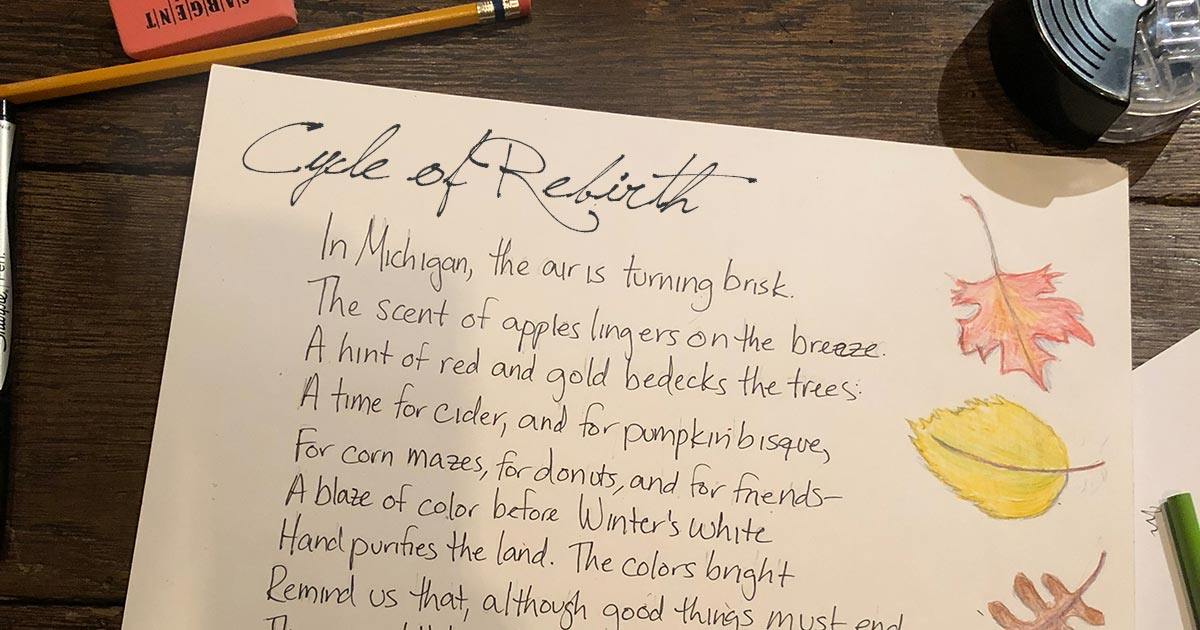 It's Hutchmoot weekend, which means it's time to share another Hutchmoot poem, aka contribution to the annual scrapbook.
2018 was a difficult year—a slow simmering stress that eventually boiled up enough for me to finally get to a counselor for a few sessions. There were many amazing things at that Hutchmoot even so, but I was definitely feeling more out of place and homesick than I ever had before. I've always been annoyed that Hutchmoot is scheduled during one of the best months in Michigan, and this poem reflects that ache. That said, this is also probably the best art I've ever done for the scrapbook.
Cycle of Rebirth
Originally written October 10, 2018
In Michigan, the air is turning brisk.
The scent of apples lingers on the breeze.
A hint of red and gold bedecks the trees:
A time for cider, and for pumpkin bisque,
For corn mazes, for donuts, and for friends—
A blaze of color before Winter's white
Hand purifies the land. The colors bright
Remind us that, although good things must end,
There is still beauty, and still light and joy.
And though I write this here in Tennessee,
Hating the awful heat, humidity,
With insects plentiful to buzz, annoy,
Yet still I feel the goodness of the earth
Exulting in its cycle of rebirth.