The Strengthening Feast and the Famine Ahead
The light shines in the darkness, and the darkness has not overcome it.
I woke up at 3:30 this morning, momentarily confused by where I was. For the first time in a week I was finally back in my own bed, and in less than three hours my alarm was set to wake me up to return to my day job.
For the last week my life has been a lovely, gooey mush of nature and poetry and music and art and beauty and loads of new friends. I've seen waterfalls and talked the theory of the universe on a swingset and drunk so deeply from the well that will never run dry. One surprisingly stirring quote from the weekend is that Hutchmoot is a jelly biscuit; if you're not part of the culture, it just can't be explained. As a northerner who doesn't understand this "jelly biscuit" concept, I prefer the metaphor of a paczki: rarely available, but oh so sweet and filling, with a taste that lingers on the tongue, leaving you hungering for a year.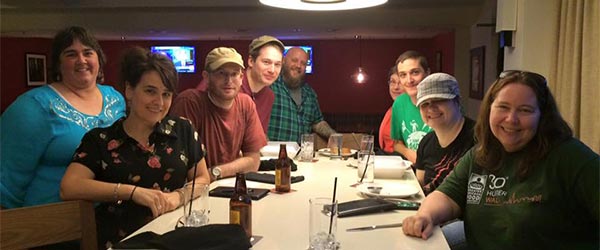 And the taste of Hutchmoot is still lingering on my tongue. But it's telling that paczkis are a Fat Tuesday tradition. Polish households would empty their larder of the foods forbidden during Lent; they offloaded all of the sugar and lard into delicious bundles of jelly and dough for one last glorious celebration. But then came the famine.
So at 3:30 this morning, back home in my own bed, I grabbed my phone and checked Facebook. Over the last few days, my feed has been overflowing with the aftertaste of love and beauty to the extent that I've barely seen updates from my old Facebook friends (so if I missed something, guys, I'm sorry). But finally, at 3:30 this morning, an article slipped through the cracks, reminding me that the feast is over and the fast has begun again.
That article? That Playboy is apparently transitioning to be a PG-13 magazine. You know, so that we can legally teach younger and younger kids to look at women as objects.
I love the fact that, in spite of all of my very geeky weirdness, I've become a part of a community that spends as much time as possible helping people to dance in the light, and I feel bad that I'm tarnishing it. But this morning, a handful of us are returning to jobs where we very actively engage against the forces of darkness. My friend Dawn, in her role at the FBI, may find herself handling who knows what evidence from who knows what terrorist activity. Me, I'll be editing or writing e-books and blog posts and e-mails trying to help people understand exactly how corrosive pornography is to a person's soul.
For me (and probably Dawn), this front-line work is a privilege. After all, we get to fight, very actively, against the principalities and powers of darkness that seek to destroy the light. I'd even venture that we're the fortunate ones, in a way; we know we're fighting against evil. For most people, the shadows may creep in so subtly that they don't even notice them, or recognize the source of the darkness when they do.
But oh, the dark is real, my friends. And in a few short hours I have to return to fighting the beast, starting with the 157-headed hydra known as my work e-mail. From my current vantage point, I don't see a true break until we wrap up a conference in April. I have been mercifully strengthened, but it will be a long battle in an even longer war.
Please pray for me, friends. Please pray for us all.