The Darkness and the Glory
"We rented a room," she said.
Her voice cut across the table, cut through the banal conversations, commanding attention. Maybe five minutes earlier, they had been brought into the Commons at work, where Sales and Marketing were having a potluck. We had plenty of food, and we offered to let them join us.
"And in that room we pray for them, and I offer them rides when they need it. People ask me how I can, knowing what they're doing, but that's 20 minutes that they hear about Jesus."
Dimly I remembered that they were Christina and Katana, and they were on the Genesee County Task Force for Sexual Exploitation. They were polished, professional, beautiful.
"They ask me why I don't help them find new jobs, out of the Industry. And I tell them, it's because they'll just take their same mess into the next job or the next relationship. They need to see their own value first.
"And so we'll pray for them, and I always pray two things. The first is for their safety. You know, when they're out there on the floor, and the men are getting a little tipsy and pushy. It's dangerous! And the second thing is that they'll make the money they need that night, because they're there and they need the money. And we need to meet them there, right where they're at, so they can start to see their own value. And we let the Holy Spirit work."
We were silent, waiting. The chili was pushed aside, the desserts forgotten. It was a frontline report at the war table.
"And I've had four women come to Jesus and get out of the Industry, just from me giving them rides. We kept showing up at the clubs and going into the dressing rooms and offering to pray for these women.
"There was this one club—the premier strip club in Genesee County at the time—and we were meeting there, and praying for them, and one day the owner came up to me and told me he couldn't believe the change he'd seen in those women. They saw their own value. A month later, they had to close, because all the women quit.
"And I cannot believe just how amazing God is. That He would just open up the doors so we could go into strip clubs and pray for people. And they welcome us, and they serve us! They give us Coca-Cola and water. And God does his thing."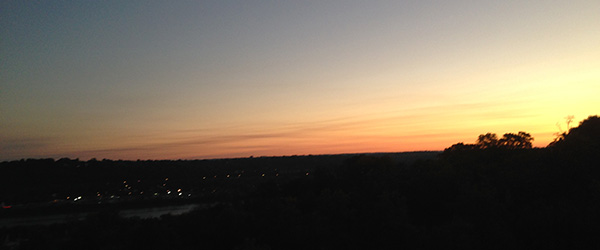 Christina and Katana were only there with us for an hour, but there were so many stories. The doors God has opened. The strip club that gave them the $300/hour private room for them to use for prayer. The young teenage runaway, abandoned by her school, who was later found in Georgia, a victim of sex trafficking. The methods they use to get women far, far away from their pimps, their abusers. The gift bags they bring to the strippers: hats, scarves, cookies, lighters. Things that tell them, you are loved by a God so much greater than you can possibly imagine.
All because she took a step of faith and got swept along by the hand of a mighty God.
I was humbled, then, that I could ever dare to think of myself as being on the front lines of anything.
And yet also glad. I do not know why God saw fit to bring me here to Covenant Eyes, though I can trace the path He used. But why He should set me up in this particular corner of darkness is beyond me, and that I should be allowed to hold a tiny little flame of light at all is overwhelming.
Spiritual warfare is real, and the forces of darkness surround us. But I serve a God who shines brighter than the Sun, who will one day burn away the shadows. For some reason He has placed me here, where I can occasionally catch a glimpse of His glory through the dark—and I am so glad He did.