Myers-Briggs, Bible-Style
So I have a blog post in the works all about how Google+ screwed me over, but thinking is hard/meh effort/etc., so instead of finishing that you get a nifty Myers-Briggs infographic of characters from the Bible.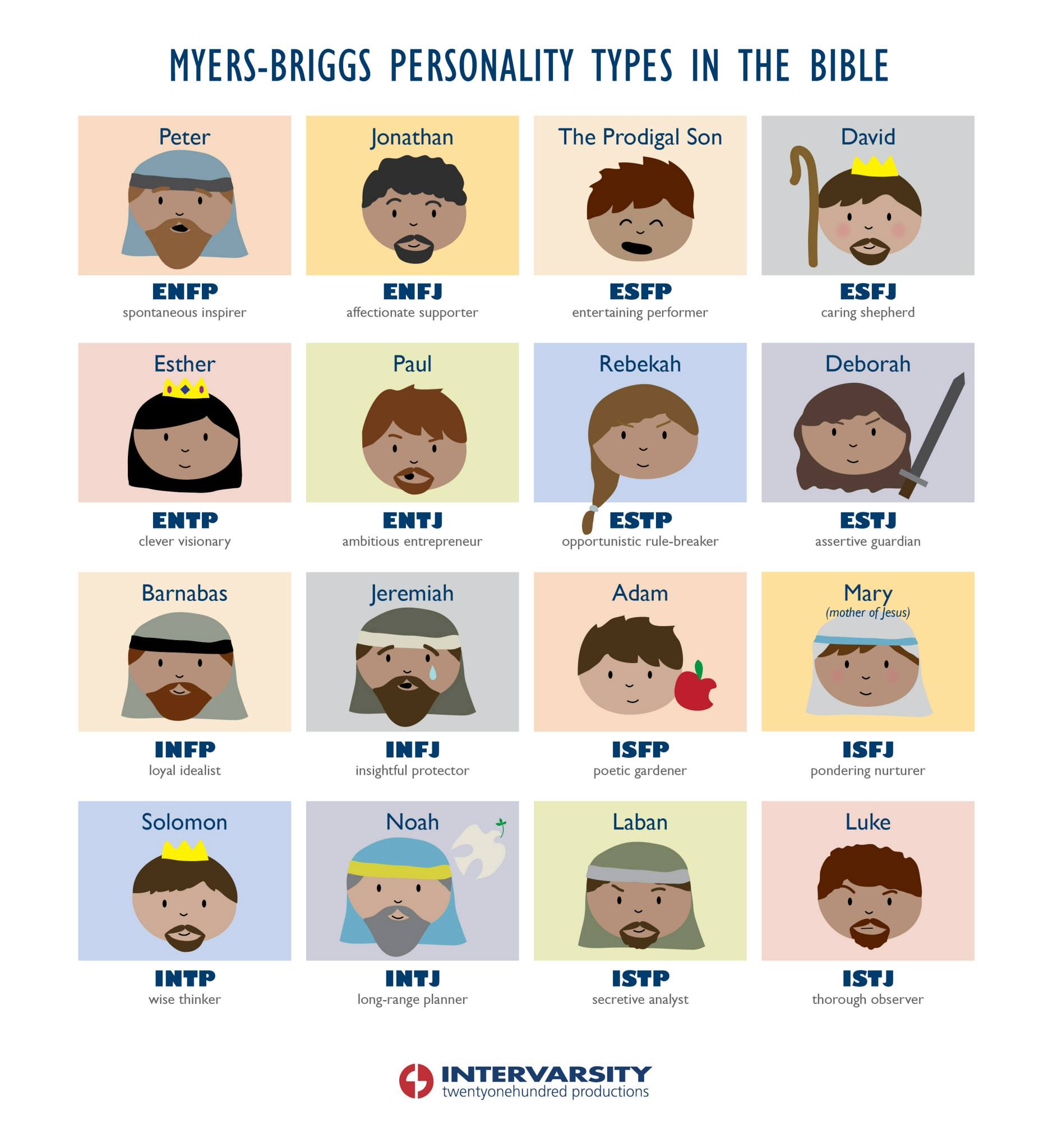 Noah? Yeah, I can live with that.
I have to admit that, as much as I love pop psychology like this, I tend to take this sort of thing with a grain of salt; my answers to questions are often subjective to my mood on a given day. A lot of these personality profiles are interesting, but they're like reading your horoscope: if you want to believe it, you'll find a way in which it's true. "You will have conflict at work this week!" Well, sure. I do to some degree every week, unless I'm on vacation (and sometimes that doesn't stop the conflict). "This is a good week to make a decision!" Are there bad weeks to make a decision?
(Note: The exceptions to the horoscope principle of generic-ness are The Onion's horoscopes, which are always and forever absolutely true and perfect.)
Personality profiles function similarly to me, especially as they fall more broadly. If a system of personality categorization exists and is at all worth its salt, you'll be able to fit yourself into it. Basically, I read the description of INTJ and nod…but were I unfamiliar with Myers-Briggs, I'd look at the description of ESFP, my archetype's polar opposite, and see myself in it as well. Possibly not as clearly as in INTJ–nobody will ever accuse me of having particularly good sensory awareness–but averse to conflict? Heck yes. Do my work last-minute? Let me tell you how many all-nighters I've pulled for the sake of a deadline, even into adulthood.
That being said, I do find Myers-Briggs useful, if only because it highlights that people do view the world differently. I tend to like a lot of context for my work, sometimes to the annoyance of others, but I've found that explaining that I need to think long-term context for my own peace of mind has helped smooth over conflicts in terms of my approach to project.
And I think that's the real value of any personality profiler, Myers-Briggs and otherwise: they help you understand what you need to do for your own sanity.
So, kids, what about you? What profile are you, and do you find such things more of a help or a hindrance?