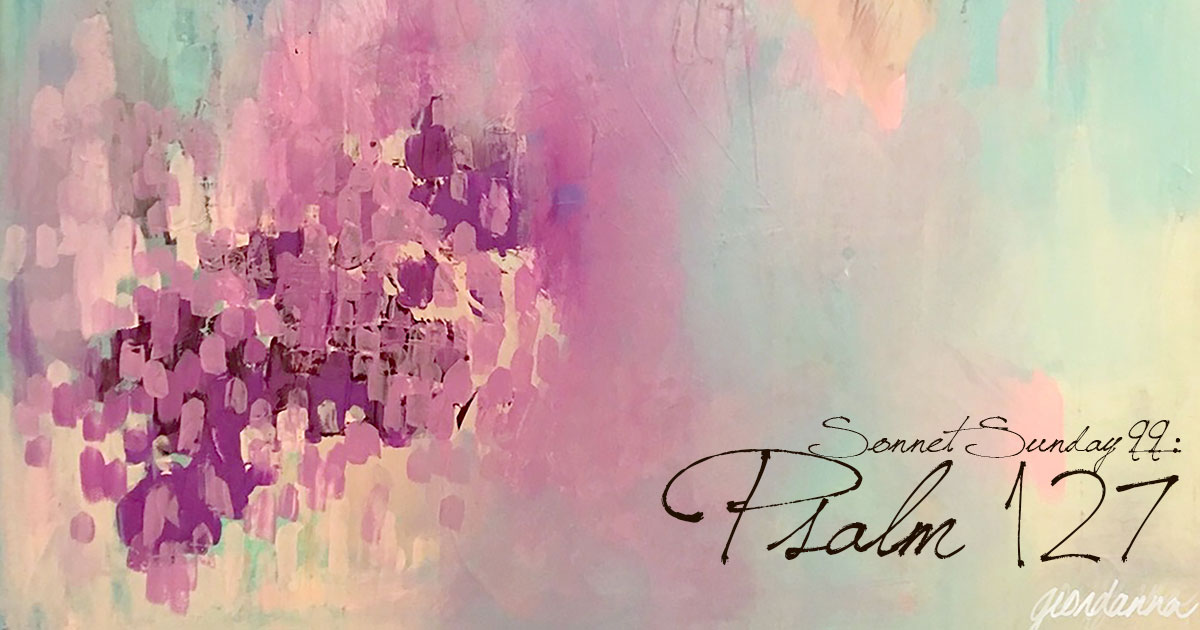 Before I get to today's sonnet, a quick announcement: I'm in an online poetry group, and we just produced our first chapbook! You can download it for free on Noisetrade. (Any monetary donations will be given to the Rabbit Room.)
The first half of Psalm 127 has been deeply meaningful over the last 19 years or so, especially as I've gotten lost in daydreams about futures that never came to be. After my first missions trip I was lost in a hopeless crush on another participant and was utterly convinced that I was supposed to transfer to Moody Bible Institute the following year; it's a long story, but God made it very clear through his interruptions (including a memorable weekend with my arm in a sling) and his provision that I was mistaken. (Sometimes God gently shuts a door. Other times he has the door topple on you after you've kicked at it for a while.) At any rate, I don't remember whether I first "discovered" Psalm 127 on the flight home from that first trip, hopelessly starry-eyed about the future, or on the flight home from the second one, a year later and ever so slightly wiser, but either way it was the message I needed to hear at the time.
Since then, I've come back to it repeatedly. Of the chapters I've memorized or attempted to memorize, it's the one I can recite most readily. "Unless the Lord builds the house, they labor in vain who build it…" It's a message I still need: move forward in faith, yes, but be okay with trusting when plans fall through, as they often do. Because God has always provided the right thing at the right time: friendships, jobs, ad infinitum. The only thing He hasn't seen fit to give me yet is a romantic relationship, but I've seen the good he has done through my singleness, and I move forward in faith that if He ever does feel fit to grant me that desire, it will be the right person at the right time. Everything won't be perfect, of course; but it will be better than any of the castles in the air I've built up over the years. As the NASB translates it, "He gives to His beloved even in his sleep."
Psalm 127
Originally written October 22, 2018
O Lord, I try and try to build my house
Lay out the floor plans, buy the furniture
And when my plans fall through, I whine and grouse,
But in my sleep, o Lord, You give me more.

O Lord, I try so hard to guard my heart,
To build strong walls, to keep it safe and close
But daily stresses tear my walls apart
My self-reliance fails—I am exposed—

But You—o Lord, when I trust You to guard
My heart and guture, all my deep desires,
And place my plans within your hands—still scarred!—
And let them be refined by Heaven's fires,

You turn them into gifts far greater still
Than anything my foolish hands could build.
Photo by Geordanna Cordero-Fields on Unsplash