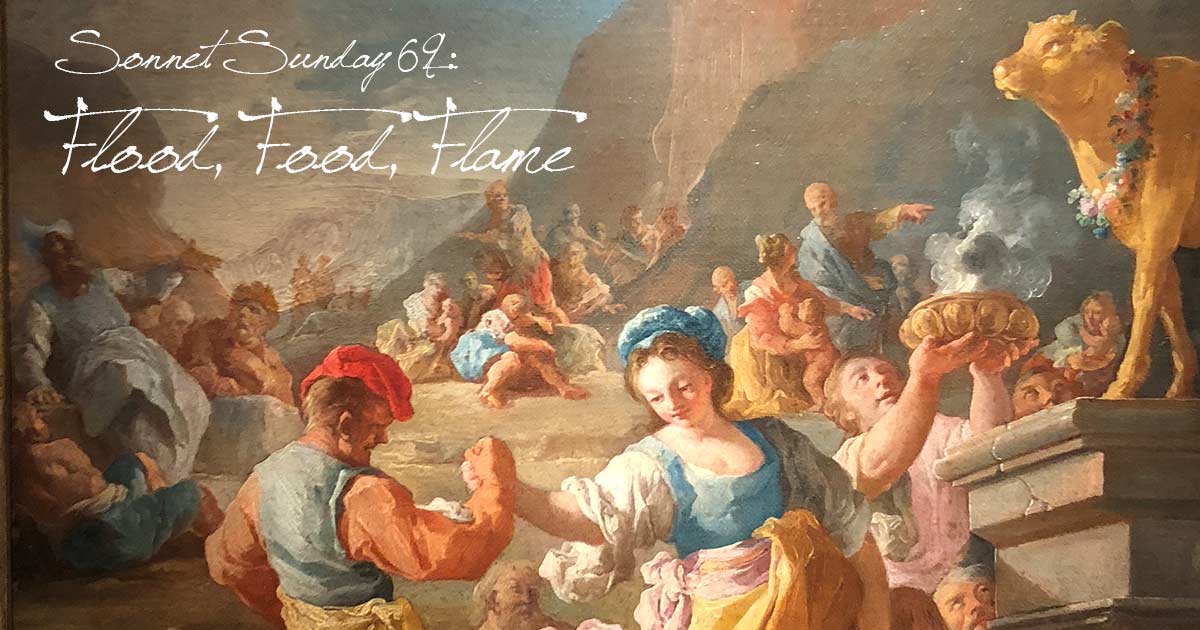 Today's sonnet is another one inspired by my readthrough of the Pentateuch. Specifically, this is me trying to comprehend how Israel could go from an obviously miraculous escape from slavery to building an idol in a matter of months. Today's cover art was inspired by the golden calf; it's a photo of Lorenzo de Caro's "The Israelites Worshiping the Golden Calf," available at the Detroit Institute of Arts. The historical inaccuracy makes me giggle, but the reality is that any people group in any setting probably would have acted similarly to the Israelites, and that's probably why de Caro set the scene using his own people.
(I am oddly fond of this painting. It's now my phone's wallpaper.)
For the record, I picked this sonnet for today because I read it out loud at Hutchmoot last weekend at the Friday poetry slam. The official event photographer chose the exact moment my name was called to walk in and take photos because of course he did. I look forward with fear and trepidation to see if it makes the official photo book.
Flood, Food, Flame
Originally written June 28, 2018
What are you thinking, God? Why bring us here?
We're trapped between our masters and the sea.
We thought you brought us out here to be free—
It should be them, not us, quaking with fear!

Get it together, God! We have no food!
In Egypt, we had lots of things to eat.
Sure, we were slaves, but at least we had meat.
Our grumbling stomachs really kill the mood.

Good glory, God! What are you doing now?
Our leader left us—climbed a flaming mount—
Now he's been gone more days than we can count.
You might be working, but we can't see how.

We've said our wishes. You ignore us still.
If you won't hear, we'll make a god who will.