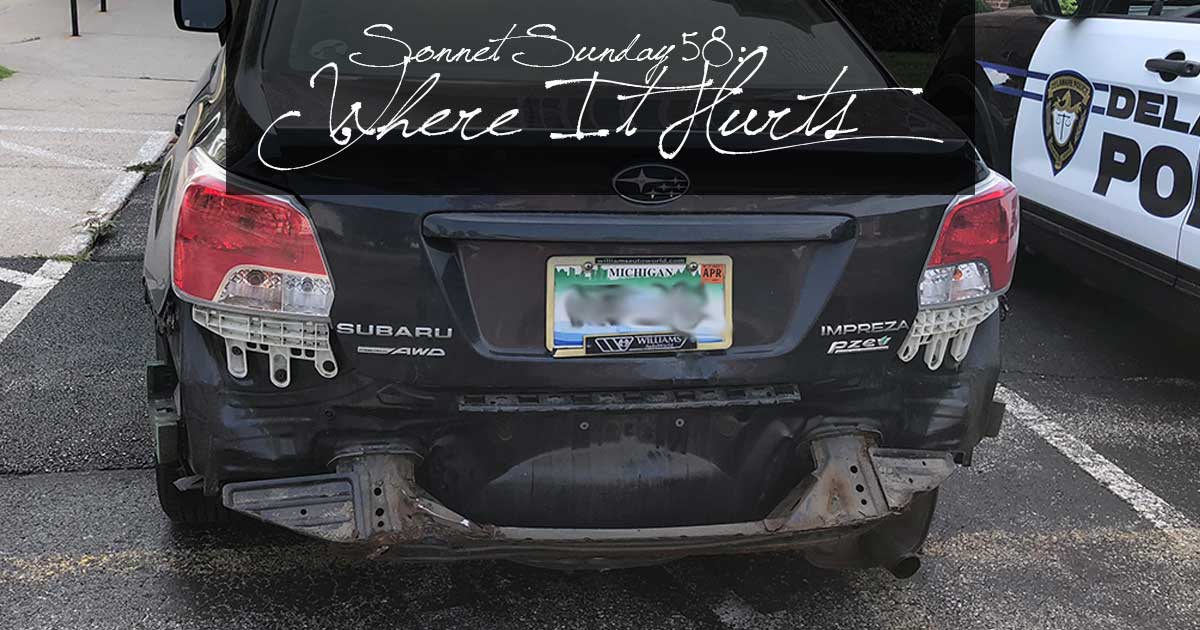 This is not the sonnet I intended to publish today. But seeing as I forgot to actually hit "publish" when I scheduled the original sonnet, I may as well publish this one instead.
I have a storied history of car problems—some of them my fault, some of them the other driver's, some of them the car's issue, some of them sheer acts of God. In fact, despite all of Dave Ramsey's advice about buying a used car, I will probably always buy new simply to actually know what has happened to them… because my Sunfire was more or less a lemon and my Alero started having issues caused—somehow—by the aftermarket remote starter installed by the previous owner some 60,000 miles previously.
I was rear-ended today north of Columbus, Ohio. Neither of us were injured. My rear bumper did exactly what it was supposed to do, but other than the bumper currently being in my slightly-damaged trunk, the damage appears to be minimal, and the car was driveable (a good thing, since I still had 3 hours of driving to do). The other driver's airbags went off, which is pretty darn impressive given that we were in stop-and-go traffic. So he probably had to have it towed, but he at least managed to limp it into a nearby parking lot.
So all told, it could have been worse. I've done worse to my own car. But I'm not looking forward to the prospect of having to go through the hassle of getting it looked at and repaired. Again.
Back in 2005, my Sunfire and I were regulars in the local service shop. Something was always going wrong with it. At the end of its life (which was accelerated by an "off-road adventure" involving ice on the expressway and a sapling), I think I was in there every 2-3 weeks. Even though I almost got to be friends with the mechanics because I was in there so much, it still hurt to be car-less for an hour or a day or a week—to have to rely on others to take me places.
It was during one of those times in the shop that I wrote this poem. For the record, as an adult I realize how terrible it is to romanticize illness, and in fact I'm grateful for the comparatively mild inconvenience of car problems instead of chronic health issues, but it's still hard to have to depend on God for reliable transportation.
Where it Hurts
Originally written circa Winter 2005
I was a morbid child. I often prayed
For trials to come—so I could prove my faith—
To prove I knew that God would keep me safe—
To prove, no matter what, He'd be obeyed.
But what I really wanted was disease
Or injury—these things I could endure—
The crucible of pain would make me pure.
Instead of this, however, God was pleased
To take away that which I value most:
My mobile freedom. Forced, then, to depend
On others—to rely on parents, friends—
Now, more than ever, I must learn to trust.
When stubbornness makes us hold things too dear,
We must hold loosely—and to God draw near.